Step-by-Step Instructions: Obtaining a Receipt
To simplify your FilesAnywhere experience, receipts for your account activity are available online. Receipts may be viewed as a PDF, saved, printed, or emailed to the email address associated with your account. Access a receipt anytime you need it by following the instructions below.
Let's Get Started:
1. Login to your account.
2. Click the Account name (top right).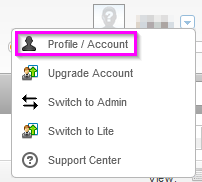 3. Click the Plan Information button on the left.
4. Click the Email Bill Summary Link.
5. The Billing Receipt dialog box will appear and prompt you to choose a date range. Click the View PDF Receipt to view your receipt as a PDF file. Click the Send button if you wish to receive an email with your receipt.
Note: All e-receipts will be sent to email address registered with your FilesAnywhere account.
If you do not receive an email within a few minutes, check your Spam folder. You may also wish to confirm the email address associated with your account in your Profile (top right tool bar).
Still Have Questions?
If you need help or have additional questions, please contact us.