Step-by-Step Instructions: Sending a Fax from Your FilesAnywhere Account
Need to send a fax, but don't have a fax machine? No problem! Every paid FilesAnywhere account is able to send outbound faxes. It's simple, efficient, secure, and free!
Note: A fax number is not needed to send a fax. However, if you would like to receive a fax number for inbound faxing, click here to learn more.
Note: You can only send 25 pages at a time, this includes the cover page. If a fax is over 25 pages, you will receive an error stating as such in your email notification.
Note: Click here to view the video.
Let's Get Started:
1. Login to FilesAnywhere.
2. At the top of the screen, select the Share tab next to My Documents.

3. Click the Send Fax button under the Send and Receive section.

4. Use the Browse Files button to select files.
5. Once you have chosen your file(s), select and fill in the appropriate fields within the tabs such as Sender Details and Cover Page tabs.
6. Click the Send Fax button.
7. You will receive a prompt that lets you know your fax is being sent. Then you'll receive an email with confirmation of your fax status.
8. To view the Fax History log:
A. Press the View Sent Faxes button on the bottom left of the current screen.
or
B. Click on the Share tab at the top next to My Documents. Then under the Manage section, click on the Fax Log button.

9. The Fax History Log will display a list of all sent and received faxes.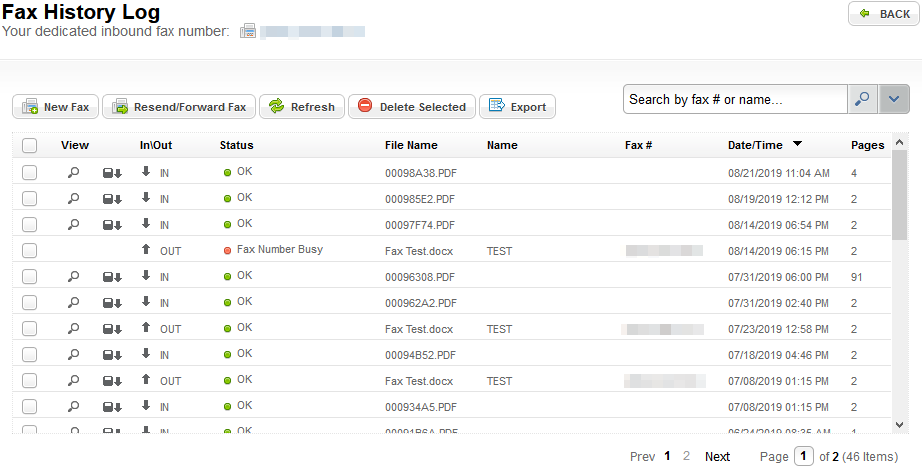 Important Information About Faxing with Your FilesAnywhere Account:
Free accounts are allowed a maximum of 10 outbound faxes a month.

*No longer offered*

Business Starter and Professional plans are allowed up to 500 outbound domestic faxes, or 100 outbound international faxes per month
Faxes must be no more than 25 pages at a time. If you exceed that amount, the fax will be denied and you will receive an error in the log and an email notification citing this.
Still Have Questions?
If you need help or have additional questions, please contact us.