Multi factor authentication (MFA) or two factor authentication (2FA) provides a second layer of security. When logging in with multi-factor authentication, you'll enter your password, and then you'll be asked for an additional way to prove it's really you.
FilesAnywhere now supports entering a the one-time password (OTP) generated by an authenticator app, such as Microsoft Authenticator or Google Authenticator Apps. The one-time passwords (OTP codes) have a 30 second timer counting down. This timer is so you never have to use the same time-based one-time password (TOTP) twice and you don't have to remember the number. The one-time password (OTP) doesn't require you to be connected to a network, and it won't drain your battery.
If your administrator enables MFA and sets it to Authenticator, here's the flow of how to make use of it.
1) Log in to your account
2) The first time you access your account after MFA: Authenticator is enabled, you will be presented with a QR code.

3) You will need to scan the QR code with your authentication app of choice (Microsoft or Google).
4) Once you scan the QR code, your authentication app will provide you with a timed verification code.
5) Enter the verification code and press Next.
6) You will now gain access to the contents of your account.
The next time you log into your account, the QR code will not display, but you will be prompted to enter the verification code from your app of choice.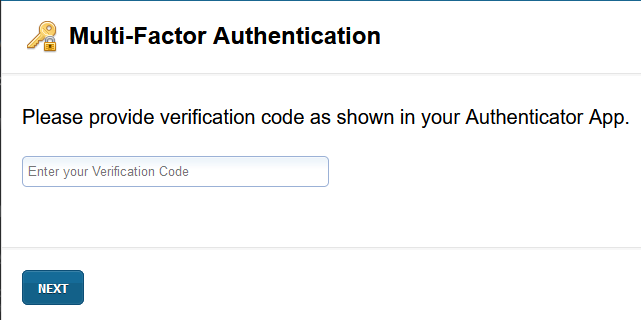 Note: If you ever need to reset your QR code for any reason, please contact your account administrator.
Still Have Questions?
If you need help or have additional questions, please contact us.